The young Notre Dame defense played one of the best games of the Brian Kelly era on Saturday to defeat Michigan 31-0 and knock on the door in the Top 10 rankings in the country.
Play-Call of the Game: Golson 24-yard Touchdown Pass to Fuller
Notre Dame took possession of the ball on their 44-yard line with just 1:24 left in the half and no timeouts. After 5 plays the ball was moved to Michigan's 24-yard line and on 3rd &1 Golson heaved a beautiful pass into the end zone where Will Fuller leaped for an even more beautiful touchdown catch. That boosted Notre Dame's lead to 21-0 and allowed the Irish to take all the momentum into the break.
Armchair Quarterback
Quite an impressive game from Golson who, despite the struggles with the run game, wasn't asked to run the ball and be dynamic in that aspect of the game. With only 3 carries (1 being a sack taken) his wheels were a non-factor but the flip side was that Golson showed a lot of poise in the pocket and beat Michigan with his arm. In many ways I was more impressed with Golson this week than last. His decision making was precise, he didn't have happy feet in the pocket, and he was generally very accurate--only missing on a few throws that were just out of reach of his intended targets. The second half was nothing to write home about as Golson opened by missing his first 3 passes and finished 7 for 13 with just 57 yards. Still, on the second series he connected on four straight passes the last of which culminated in his 3rd and final touchdown. We'll probably need more out of him running the ball against the likes of Florida State and Stanford but this was a great passing performance in the moment that could have been even better with fewer drops and a little more accuracy on a few throws.
Turning Point: Joe Schmidt Forced Fumble on Devin Gardner
Notre Dame was coming off a touchdown to make it 28-0 late in the 3rd quarter but Michigan was in the midst of a drive that could have brought back memories of 2011 if the Wolverines finally got on the board. After a long connection drought, Devin Gardner found Devin Funchess for two passes that totaled 43 yards. On second down from Notre Dame's 39-yard line Gardner took off from the pocket, bounded left and right, spun this way and that, before Joe Schmidt caught him right in the chest causing a fumble. Isaac Rochell would recover the ball which allowed the Irish to begin the fourth quarter still nursing a shutout.
Surprising Stat: 54 Rushing Yards
It wasn't a productive rushing performance by Notre Dame but in my mind it didn't seem quite this bad. If Michigan did one thing well it was bottling up the Irish running backs and closing running lanes. I thought the tailbacks danced around too much and should have ran with a little more power, though. Next week offers an opportunity against a really poor Purdue team to establish a strong run game again. We'll hear a lot about Notre Dame's recent struggles against the Boilermakers (143 yards on 73 carries the last two years) but remember the Irish did explode for 287 yards at 7.17 yards per carry against Purdue back in 2011.
Unheralded Star: Kolin Hill
There were a plethora of players to choose from but I'll pick the true freshman getting his first extended action of his career and making the most of it. Hill only had 2 tackles but they both added to Michigan's misery as he notched his first career sack and added a half tackle for loss.
Missed Opportunity
Following the fumble mentioned above the Irish had decent field position and ran the ball twice with Greg Bryant setting up a 3rd and 1 to start the 4th quarter. In hindsight with a 28-0 lead it wasn't such a big deal but a screen pass to Carlisle was blown up for a loss of 3 yards forcing Notre Dame to punt and give the ball right back to Michigan. Even with the struggles running the ball I would have liked to have seen the ball given to a back or Golson on a draw.
Flag of the Game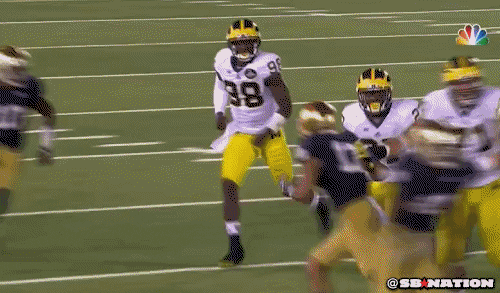 I won't mince words. I love this play from Max Redfield because it's old-school and tells me he's got some nasty inside of him that we really hadn't seen until this game. Onwualu was about to size Gardner up too, and I like that as well. I'm okay with gentleman off the field but players who get real close to the line of mean or dirty.
Kelly on Redfield's hit: We didn't think he took a shot at a kid who's 6-4, 220 pounds. Max didn't size up somebody or target a player...

— Irish Sports Daily (@ISDUpdate) September 7, 2014
On Redfield, cont: We felt he was doing his job

— Irish Sports Daily (@ISDUpdate) September 7, 2014
Red Zone TD Success: 75%
Notre Dame entered Michigan's red zone three times in the first half and scored touchdowns on each drive. That is a major win for a program that had a lot of troubles putting 6 on the board over the past two seasons. Notre Dame would later settle for a field goal after getting to the Michigan 10-yard line on a third down play in which Golson was called for intentional grounding.
Schemes n Such
The passing attack was really well orchestrated. Michigan's secondary tackled pretty well but otherwise they were as quiet as can be in the game. However, the run game was pretty frustrating at times despite the score of the game. Everything seemed really vanilla. Still, Kelly does deserve some credit for keeping the ball on the ground throughout the game despite the poor results. Golson threw 3 straight passes on 3 separate occasions but never 4 straight passes. Kelly typically sticks with the run while leading so it wasn't a big surprise but I thought it allowed Golson to stay comfortable and eat up some precious minutes in the game when we've been so scarred in the past by allowing Michigan the opportunity (and time) to come back on us.
Trench Analysis
The run blocking was quite poor at times and as Kelly mentioned after the game it was Michigan's design on defense to stack the box and take away the Irish ground game. Michigan had 8 tackles for loss which is way too many. Be that as it may, the line protected Golson really well (1 sack on the intentional grounding play plus only 2 quarterback hurries all game) and really nullified any Michigan pass rush.
So damn proud of this defensive line right now. Only two sacks on the evening but one of those was by a true freshman and the other by a left-for-dead fifth-year senior in Justin Utupo, who by the way flashed a couple more times in the game, as well. Sheldon Day stepped up (5 tackles, 0.5 TFL, 4 quarterback hurries) and proved why he's being spoken of so highly by coaches and scouts across the nation.
Most of all, the line played amazingly well against the run. Hyped former 5-star running back Derrick Green found almost no room all night long and finished with just 25 yards on 13 carries. Michigan did notch 100 yards on the ground, however, it was an empty 100 yards built off several third and long draw plays that did not go for first down and Gardner scampering for some positive yardage. The two UM running backs finished with 55 yards on 20 carries, so that's a job well done.
Freshmen Update
Andrew Trumbetti, Drue Tranquill, Kolin Hill, Daniel Cage, and Grant Blankenship all registered on the score-sheet. The highly touted Trumbetti had his bell rung on an early targeting no-call but came back after a few minutes playing well to finish with 4 tackles, 1 quarterback hurry, and a near sack of Gardner.
Justin Brent, Tyler Luatua, Corey Holmes, Greer Martini, and Durham Smythe were the other freshmen who got into the game.
Final Thoughts
Was this the best game from Irish safeties since 2012? Welcome to college football, Max Redfield! We FINALLY saw Redfield involved in the game. Not just involved, but making plays! Shumate also played his best game of his career with 10 tackles, 1 pass breakup, 1 quarterback hurry, and a couple really strong tackles. Heck, let's throw Farley in the  mix as he had his most fundamentally sound game of his career, I thought.

It's pretty crazy to think that this defense is missing KeiVarae Russell right now because the tandem of Cody Riggs and Cole Luke have looked awfully confident through two games. Riggs in particular has been a godsend for this defense and team.

I loved the smoke entrance (as seen in the main picture) for the Irish to run out onto the field. With all the talks we've had about improving the Stadium the team entrance has always been No. 1 priority on the list. It's certainly not revolutionary or original but it's a start of something different and exciting. You can only do so much with Michael Collins giving the weather report as the team comes into the tunnel.
One man looks like an AD. Another, does not.

— One Foot Down (@OneFootDown) September 7, 2014
All of the praise to Brian VanGorder who has started his Notre Dame career in style. Not only does he coach the first-ever Irish shutout of Michigan but he's been singled out by Kelly for his ability to teach players effectively and quickly. That's a huge asset for such a young defense. Right now, BVG looks like exactly what this team needed for 2014.

You may have heard already but Saturday's win was the biggest margin of victory in the series for Notre Dame. That's a heck of a way to end the rivalry.

On Sunday, Kelly told the media that right guard Christian Lombard has been nursing a bum ankle which is why Matt Hegarty rotated in with the starters. Also, running back Tarean Folston has a bone bruise but should be fine for the game against Purdue on Saturday.

Will Fuller was a couple drops away from having a major break out party. Heck, he probably still had said party. Fuller still killed it with a career-high 9 receptions for 89 yards and his touchdown catch (watch him smoke the corner on the Irish Connection video below) was amazing. The two small Irish receivers (Fuller & Carlisle) led the way for the offense and combined for 150 yards and 3 touchdowns. With Prosise's catching problems (big third down drop) it appears Carlisle is taking the starting slot position over and not looking back.

In the big picture this was an enormous win for Notre Dame. It's a win that comes with great relief and could be the difference between 8 or 9-win floor for the program. Despite the 2-3 record against Michigan for Brian Kelly he can now look back and see a lot of football in which the Irish really out-played UM capped off by this series ending thrashing. It's really early in the season so we'll see if this springboards the team into something greater. The current AP No. 1 team (Florida State), No. 9 (USC), No. 15 (Stanford), No. 16 (Arizona State), and No. 21 (Louisville) teams still remain on the schedule.

I should say something about Michigan. It's a virtual guarantee that they only face 2 more ranked teams (MSU and OSU) all season plus they have an upcoming 4-game stretch against Miami (OH), Utah, Minnesota, and Rutgers. Only the last game is on the road. They should be 5-1 by early-to-mid October, but a collapse against Utah wouldn't shock. After that, who knows. 9-3 looks to be their ceiling, if they're lucky. In some ways the Hoke era has been worse than the Rodriquez era. Rich Rod just didn't fit in, had some bad luck, and didn't care enough about defense. Hoke's had a horseshoe up his butt (2011 ND game, Sugar Bowl win, last year's game-winning field goal against NW, etc. etc.) for a long time and yet he feels like a bigger fraud than Rodriguez. Giving Gardner the jersey of Tom Harmon last year and giving Funchess the No. 1 jersey this year smacks of the opposite of MANBALL principles. They've tried to create stars and hype before it any such thing existed. You just can't do crap like that, trot out such a wretched offensive line, and lose every big road game you've ever played.