After a slow start on the new field turf the Irish picked up steam and blew things open before halftime leading to an easy win over Rice.
Play-Call of the Game: Golson 75-yard touchdown pass to Fuller
Rice had just tied the game at 7-7 on the previous possession and the offense needed a pick-me-up after staying pretty conservative (10 rushes to 3 passes) through 3 drives. On the first play of the fourth drive, with just over 2 minutes left in the 1st quarter, the Irish executed a perfect play-action pass. In shades of Oklahoma 2012, Golson quickly shuffled up into the pocket and saw Will Fuller pulling away from the Rice safety.
The ball was a little under-thrown (more on this below) but Fuller created enough separation to slow down, make the catch, and shrug off the tackle to waltz into the end zone. This decidedly pro-style play-action play can be a huge asset for Notre Dame if it can be completed from time to time.
Armchair Quarterback
I have very high expectations for Golson so after his performance on Saturday I'm really being nit-picky in some areas. He'll be showered with praise--and deservedly so--and I'm going to take a different angle. I still think he needs better pocket presence. What's more, he needs to stop floating to the sidelines so much instead of shuffling up and into the pocket. Yes, there was some pressure up the middle and he was flushed to his side and yes his ability to get outside the tackles provides the big play ability that we witnessed against Rice.
Still, I think he's too quick to bail out of the pocket and isn't super comfortable unless the pocket is perfect. To this point, Golson's drifting really limited his impact in the run game. I know that sounds crazy seeing as though he tied a school record with 3 touchdowns but Everett carried the ball 12 times and only netted 41 yards. And that is with just 1 sack against the offense.
Another somewhat small concern I have is that with the weight gain Golson isn't quite as explosive when he tries to get the edge. I thought at times he looked a little slow, too. He adds so much in the run game but he's never been the type of runner to escape the pocket, get the edge, and fly for 25 yards. You'll notice his best run plays on Saturday were when he was decisive and got vertically up field in the middle of the field. That's when he's dangerous. Settling down in the pocket and stepping up more often will make Golson an even more dangerous passer and runner.
All that said, you really couldn't have asked for a better performance coming off a year-long suspension. Golson looked sharp early (5 for 6 to start the game) and the big play ability was ridiculous at times. I'm always amazed at how he so often out-plays his stat line, too. He was "only" 14 for for 22 on the afternoon but just like in 2012 that doesn't do his accuracy justice. There were a few drops, a few balls that were thrown away, and only one poor pass (should have been picked off) that was thrown behind Koyack on a quick out. If Golson can hit the deep ball--something he was pretty spotty with in 2012--this offense might explode. He's always been very accurate on the short-to-medium throws and the offense really didn't pick on Rice in those areas on Saturday. I think he targeted the running backs once and it looked like there were ample opportunities to do so much more often. That should change next week.
Turning Point: Golson 53-yard touchdown pass to Prosise.
The Irish had grabbed the momentum and felt like they were starting to pull away after Golson's second touchdown run of the game to go up 21-10. The only problem was that there were only 2 minutes left in the half and Rice was going to get the ball to start the 3rd quarter. The Owls ran several plays and had inched over mid-field to the point where it looked like there'd be just enough time for a field goal, or else the half would end. Then the defense made back-to-back big plays led by Matthias Farley.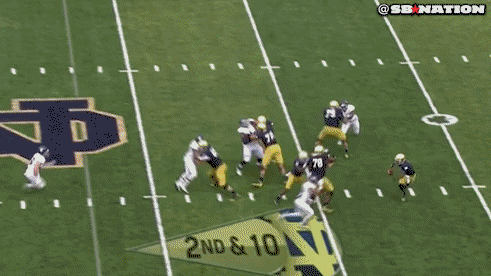 A nice blitz by Farley led to a co-sack with Jarron Jones which then led to Farley intercepting Rice quarterback Driphus Jackson. After an incomplete pass to Fuller, it was a magical moment by Golson as he eluded a defender, took a shot, but delivered a rope deep down field to C.J. Prosise to go up 28-10 at the half. Kudos to Prosise for redeeming himself after dropping a wide open bomb in the end zone earlier in the game.
Surprising Stat: 28 carries for 84 yards
For an offense that has lived off running the ball the Irish limited Rice running backs to this 3 yards per carry average. Jackson did chip in 61 yards and felt like the bigger weapon on the afternoon, but Notre Dame really did a good job slowing down Rice's running game. I know there's concern about the rushing defense, yet I think there is more than enough talent and discipline to do a good job against most teams. Sometimes, even with a change in coordinators, stopping the run stays in a team's DNA and Diaco did a good job of teaching that.
Unheralded Star: Joe Schmidt
The reviews on Schmidt seem to be a mixed bag but I was generally impressed with his effort and production. He plays a position in which he should lead the team in tackles and he did so on Saturday with 8, including 4 solo stops.
#NotreDame HC Brian Kelly on LB Joe Schmidt: "He was pretty good yesterday. He probably was our best player defensively."

— Irish Illustrated (@NDatRivals) August 31, 2014
He did look a little too aggressive on a couple plays and ended up missing tackles but even Manti Te'o did that before he went into Beast Mode as a senior. Schmidt held up pretty well in run support and even laid the wood on two hits, perhaps the strongest tackles of the game. First start, good start.
Missed Opportunity
I saw two missed opportunities both relatively early in the game. The first was Kyle Brindza's missed field goal from 39 yards that would have made the score 17-7 just inside the 2nd quarter and then obviously Prosise's terrible dropped pass on a would-be touchdown on the next series. That left 10 points on the field and the Irish didn't get the ball back until 5 minutes left in the half at which point Rice had closed the gap to 14-10.
Flag of the Game
Notre Dame only picked up 2 penalties (grr, fundamentals) and they were both on center Nick Martin for snap infractions. What was up with that?
Red Zone TD Success: 66%
There was enough success in the first half and this mark is a definite improvement from last year but the Irish settled for a couple field goals in the second half. The offense did get really conservative in the last two quarters which didn't help still it would have been nice to see them cross the goal line on those two opportunities.
The first offensive drive for Notre Dame in the second half looked like a typical "eat clock" drive. McDaniel touched the ball on 5 out of the last 7 snaps, including running the ball on 2nd & 8 and then on 3rd & 6 following a false start penalty. That's not likely to be the play-calling we see against tougher opponents.
On Golson's final drive the offense also went really conservative (7 runs to 1 pass) and Everett couldn't scramble for the first down on 3rd & 4 from the Rice 12-yard line. Being able to have running success in the red zone will be a major target this year but we'll see how things pan out when there's a little more balance down in scoring territory.
Schemes n Such
This will replace last year's "Rees Reaction" that came in a simple GIF form every week.
I was a little disappointed in the 'new' offense but at the same time I expected there to be not too overwhelming of a difference. There was some up-tempo at times where the ball was snapped just under 20 seconds left on the play clock but it was sporadic and not used throughout a full drive. So too we saw some snaps with a H-back as a blocker but that was also minimally used.
We'll see how things change next week against Michigan, what new wrinkles show up, and if those wrinkles become staples of the offense. I'd personally like to see motion used much more often and to get two running backs on the field at the same time.
Trench Analysis
The offensive line had some good moments and a couple head scratchers that we're not accustomed to seeing from this unit. First of all, they completely shut down Rice's Christian Covington who literally was not heard of from the game (1 solo tackle) and didn't even notch one quarterback hurry. I have to believe that keeping an eye on Covington and forcing double teams led to some of the problems on the edges when Rice brought some pressure. Otherwise, the line did a solid job. They were pushed back a little more than I would have liked--and having Golson hang on to the ball much longer than Rees is going to make the line look worse in protection--so we'll see how they gel and improve as a unit.
As noted above I was happy with the run defense and how the defensive line held up. They were very strong in keeping gap integrity and didn't allow many holes for Rice to run through. For example, the Owl backs didn't gain more than 7 yards on any single attempt. However, the pass rush left a lot to be desired. At times they were doing a good job collapsing the pocket with bull-rushes but most of the time they were giving Jackson plenty of time to throw. There were long stretches where the edge rushing was nonexistent. It did seem like there was a ton of stunting going on which appeared to get the interior players like Day and Jones free (Jones picked up his half sack like so but it took a while to get home) and that didn't necessarily play to the strengths of the ends. Nevertheless, this aspect to the game has to improve a lot. Only 1 quarterback hurry against Rice is not a heartening stat. Someone at defensive end needs to step up and fast.
Note: Kelly mentioned on Sunday that the defensive gameplan was specifically made to make Jackson a pocket passer and limit quarterback runs. So there's that.
Freshmen Update
We saw 10 true freshmen make their Notre Dame debuts on Saturday: WR Justin Brent, WR Corey Holmes, TE Tyler Luatua, DE Grant Blankenship, DE Andrew Trumbetti, DT Daniel Cage, LB Nyles Morgan, LB Greer Martini, S Drue Tranquill, and CB Nick Watkins. In addition, QB Malik Zaire, TE Durham Smythe, OT Mike McGlinchey, OG Colin McGovern, OT Hunter Bivin, and DT Jacob Matuska also got their first playing time as redshirt freshmen.
That is a lot of young bodies to see the field and several of whom will be playing key roles. Others, (Zaire, Holmes, Watkins, McGovern, Bivin) probably will see limited minutes without injuries and they'll be adding quality depth.
I'll have to wait for another game or two in order to make more of a critique on the new players. I thoroughly enjoyed Trumbetti's lone tackle which was angry and full of force. I am a little surprised that Holmes is already seeing the field (special teams perhaps unless he got in at receiver late?) and the staff clearly wasn't joking when they said Martini was on the two-deep because he played a lot for a freshman. The same goes for Tranquill who was used as a linebacker often on passing downs. Ideally these are three players that would be best served taking a redshirt but a combination of their talent and the lack of bodies (more so on defense) won't allow that right now.
Final Thoughts
When the news broke before the game that Austin Collinsworth was out with a sprained MCL I wondered if it would be better that Farley moved back to safety and Shumate to nickel corner. Farley struggled early but ended up playing pretty well but I still don't like him chasing receivers on crossing patterns. Likewise, the further away Shumate gets from the line of scrimmage and from receivers the more he seems to struggle. They will keep Shumate at safety this week and hope he improves on his communication and play recognition.

Kyle Brindza has now missed his first field goal in each of the last three seasons. I hope he continues to boom kickoffs through the end zone. On the attempt that bounced out of bounds he got a little too cute, I thought.

Jaylon Smith dislocated his finger but had it put back in place on the sidelines and was able to keep playing. He should be fine.

The 576 total yards from Saturday were the third most of the Brian Kelly era. Only Miami in 2012 (587) and Wake Forest in 2012 (584) were better efforts.

The 9.00 yards per play was the second highest mark of the Kelly era, only eclipsed slightly by the Navy game (9.04) last season.

222 of Golson's 295 passing yards came in the first half. He went 5 for 8 in 3 series after the break.

Cody Riggs' punt returns of 24 and 25 yards early in the game were the 4th and 5th biggest returns of the Kelly era. The 80 total return yards against Rice are just 14 yards fewer than the combined yards from both the 2010 and 2011 seasons and just 26 fewer yards than last year.