Welcome back to the DGT™ Report, the second edition of the season. Take a good look at the teams playing well right now and exceeding expectations because some of the big off-season coaching searches will focus on those coaches of said teams.
Doing Good Things™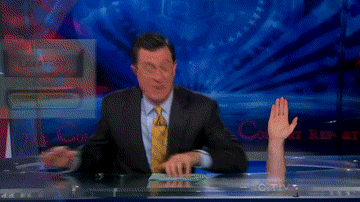 East Carolina (6-1)
Their only loss is on the road at South Carolina. Although they haven't looked as impressive in recent weeks--nearly surviving a scare from Diaco this past week--they still have the best resume among the non-Power 5 teams.
Duke (6-1)
Yes, they are only 2-1 so far in ACC play but come on it's Duke. They were idle this week and very quietly have raced out to bowl eligibility.
Marshall (7-0)
The Herd started slow, like really slow, this weekend against Florida Atlantic before winning by 19 points. They are poised to go 12-0 but their schedule is just so, so bad that a team like East Carolina will probably be first in line for a bigger bowl game for a non-P5 team.
Utah (6-1)
The good news is that Utah just beat USC and have such a nice record so far in 2014. The bad news is that they still have to play Arizona State, Oregon, Stanford, and Arizona over the next 4 weeks, plus they did lose to Washington State.
Arizona (6-1)
That Washington State team was just annihilated by Arizona over the weekend as the Cats led 52-16 in the 4th quarter. As of now they are on track to decide the Pac-12 South crown in their last game against ASU, although these things rarely play out so neatly.
Miss St (7-0)
After a somewhat tough game over the weekend against Kentucky the top team in the nation still holds on to their No. 1 spot in both polls. If they don't slip up against Arkansas only road games against Alabama and Ole Miss remain as stiff challenges.
Kansas State (6-1)
Bill Snyder wizardry is back at it again. They are the lone Big 12 team without a loss in league play and really out-played Auburn early in the season. With 4 more tough games left it won't be easy to stay atop their conference, though.
TCU (6-1)
The Frogs are a blown late lead against Baylor from probably being in the conversation as the top team in the country. They just treated Texas Tech real dirty over the weekend dropping 82 points and 785 yards on the Red Raiders.
Colorado State (7-1)
Enter Jim McElwain as one of the country's hottest head coaches. They've already defeated two Power 5 teams (Colorado & Boston College) and may finish the season with more than 10 wins for the first time in nearly two decades.
Not Doing Good Things™
Kansas (2-5)
I don't hate to say I told you so but the Charlie Weis era at Kansas went down in one giant tire fire. And wouldn't you know the Jayhawks have actually been playing better since Weis was fired!
Kent State (1-7)
Thank goodness for their win over Army a couple weeks ago because that might be their only victory of the season. Good on Chuck Martin for leading Miami to a 10-3 win against Kent this weekend.
Vanderbilt (2-6)
Staring down the barrel of a win-less season in the SEC. Perhaps they'll beat Florida when the Gators visit Nashville?
Michigan (3-5)
Can they win 3 in a row against Indiana, Northwestern, and Maryland to get to bowl eligibility? Do they think about choosing to stay home during the post-season even if they do?
Texas (3-5)
The Horns have to be careful not to lose more games in a season since 1956 when they were defeated 9 times. A road game this weekend at Texas Tech might be the difference.
SMU (0-7)
A complete meltdown of a season as June Jones gave up and walked out on this team. They haven't stayed within three touchdowns of any opponent and are sitting at -287 in point differential.
Pitt (4-4)
Normally this type of record wouldn't land Pitt on this list but their last month has been a tough one. Close losses to Virginia and Iowa can be forgiven but a blowout loss to Georgia Tech this past weekend and an 11-point loss to Akron add to the misery.
Texas Tech (3-5)
Close wins to start the year against Central Arkansas and UTEP should have been a fair warning for this team. They've lost 5 out of their last 6 games and just suffered one of the worst losses in school history this past weekend to TCU. Not looking pretty for Kliff Kingsbury (see what I did there?)