At approximately 8:00 P.M. EST on Saturday, October 18th, Notre Dame and Florida State will run out of their respective locker rooms and onto the field for one of the biggest matchups of the college football season. What happens next is anyone's guess, but I'm reasonably sure that it will begin like this (click here for the appropriate epic scene/music):
As Chief Osceola and his horse Renegade gallop toward midfield for the traditional spike of the flaming spear, the noise in Doak Campbell Stadium is deafening. Suddenly, there is a collective gasp from the crowd as a lone figure hurtles across the field and delivers a flawless flying tackle to Chief Osceola mid-spike.
Before anyone can comprehend what they just saw, Brian VanGorder has already caught the flaming spear, leapt bareback onto Renegade, and is now thundering toward the Irish sideline with a mad gleam in his eye. Singling out three defenders, he shouts his orders.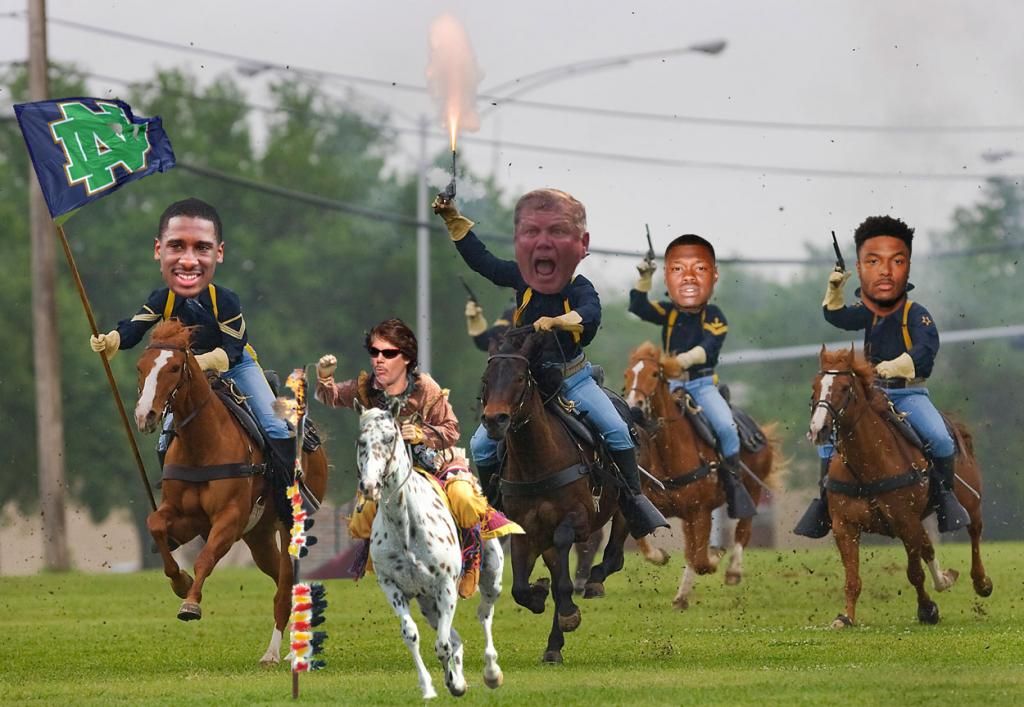 [Photo credit: Kendall Moore's beer gut (Commentariat member)]
BVG: Sheldon, take your pass-rushers down the left flank. Jaylon, follow Schmidt's blitz down the center. And Elijah, take the defense right once they pass the ball. Forth, and fear no Seminoles!
Now brandishing the burning spear above his head with a devil-may-care attitude, the Irish DC bellows out a stirring speech to his troops:
BVG: Arise! Arise, sons of Our Lady! Quarterbacks shall be shaken! O-lines shall be splintered! A blitz day--an Irish day, ere the sun sets!
The Notre Dame percussion line begins pounding their drums so loudly that it shakes the hearts of the FSU faithful and drowns out a few half-hearted attempts at starting the Seminole "war chant." Everett Golson, who has been plagued by self-doubt, looks up to find himself surrounded by his offensive line.
LG Nick Martin: Whatever happens, stay with us. We'll look after you.
VanGorder, now fully in his element, wheels to one end of the Irish sideline, then proceeds to race the length of the field while striking his (still-flaming) spear against every gold helmet he passes.
BVG: Blitz now! BLITZ NOW! Blitz, blitz for ruin, and the season's ending! Turn down for what?!? [The players echo each of his shouts thunderously.] TURN DOWN FOR WHAT?!? TURN DOWN FOR WHAT?!?
By this point, the Irish sideline is a seething mass of righteous fury and unfettered emotion, whilst the Seminoles and their fans are looking on in terror. The Band of the Fighting Irish, which has been steadily growing in volume for the last few minutes, now reaches its blasting crescendo as VanGorder roars his defensive gameplan to the skies:
BVG: FORTH, FIGHTING IRISH!!!!
Then Jameis Winston is sacked like 34 times, the Irish defense forces 5 fumbles and 7 interceptions, FSU "rushes" for -105 yards, and Notre Dame wins 84-0.
Last Week's Winners
After our white-knuckle victory over Stanford, the Commentariat got pretty creative with the image of Stanford's holder and kicker chasing a bad snap around the field. Lots of solid entries with double-digit rec's, but here are the two runners-up from clearwall and Kendall Moore's beer gut:
(Way to go with the tried-and-true Shakespeare angle. I'll allow it.)
And tied at 19 stars apiece, here are your co-winners: GoldenGoalie and Kendall Moore's beer gut!
Poll Results
I might as well have labeled those last two choices as "I am from Seattle, where it is rainy and miserable" and "I am from Canada, where the weak get frostbite before breakfast."
~~~
This week's photo of BK and Everett is definitely more on the dialogue-heavy end of the spectrum. Then again, we got some pretty solid imaginary conversations applied to last week's Photoshop-friendly entry, so go ahead and surprise me with all your clever captions.
GO IRISH, BEAT SEMINOLES!!!