Alabama is generally known for having some of the nicest uniforms in the country. I'd say that about their home crimson jerseys, but their road whites don't have the classic feel to them like Penn State or Texas. Georgia always looks good in both of their uniforms.
The Tide's first series didn't do much, but they did complete a pass on a slant pattern. The Bama receiver juked his defender out of his shoes too. Expect Irish corners not to jam at the line.
I don't know how many times I've watched Alabama over the past 3 or 4 years. It's a lot. And their secondary consistently has their back hand all over the receiver trying to catch a pass. Good coaching for sure, but my goodness do they straddle that fine line of pass interference and rarely get called for it.
Jarvis Jones came in on a sack forced fumble after McCarron double pumped and lost the ball. That's the first big momentum shift of the game. Jones will finish this game with 6 tackles, 3 for loss, 2 sacks, 1 forced fumble, and a quarterback hurry. That's a great stat line, right? I'm sure there are people saying he's better than Te'o but let's not forget Jones' team is about to give up 350 rushing yards in this game. That's a whole lot of not setting the edge, that's a whole lot of being owned by blockers, and that's a whole lot of flying upfield while the ball goes down field. But hey, pretty stats!
Can we talk about the running backs in this game for a second? Georgia loses SEC freshman of the year Isaiah Crowell but it doesn't matter because they get a phenomenal season out of Todd Gurley and (sigh) Keith Marshall. I really, really, really wanted Marshall to come to Notre Dame. Meanwhile, I'm pretty sure Nick Saban has been growing new running backs in some cryogenic farm just outside Tuscaloosa. First Mark Ingram, then Trent Richardson. Now Eddie Lacy and T.J. Yeldon. They're getting bigger and faster, and it shouldn't be possible. Soon they'll have some 6'5" 280 pound running back with 1,800 yards and 25 touchdowns.
Missed field goal by Georgia and they didn't deserve point after the turnover anyway---couldn't move the ball. That missed field goal was thanks to a Alabama sack. They look an awful lot like the Notre Dame defense. I think we have a little bit more speed rushing ability with Tuitt and Shembo, but the Tide have an edge in power rushing. But we both make a living with power rushing out of the 3-4.
They're talking about Georgia's OC using Gurley primarily because of his power and down-hill running ability. I doubt we'll see much of Cierre Wood against Alabama.
The 1st play of the 2nd quarter is a fake punt by Georgia, the second of the game already. Alabama didn't get theirs off in time and suffered a delay of game penalty. I'm comforted by the fact that we won't see many, if any, tricks from Alabama in the national title game. I think they'll play us pretty straight up as the team with the more perceived talent will almost always do.
Aaron Murray puts Georgia on the board with a nice pass to the tight end after a safety vacated the area on the blitz. Golson will need to have his best game yet throwing the ball 15+ yards down field to beat Alabama.
How many cheerleaders did these teams bring to the game? About 2,000? Why are they always in the stands? Is that the SEC schools' cheer teams? Dance teams? Are there any proper cheerleaders on the field or is that illegal because then it's more difficult for them to be on TV?
Alabama freshman wide receiver Amari Cooper has Marqise Lee-type talent. He's scary good.
McCarron with the interception in the end zone on a throw for which I have no idea where he was going with it. They're telling me it was supposed to be a back shoulder throw, but wow was that ugly.
I think about this every time I watch football. I'm surprised holding isn't 5 yards instead of 10 yards.
Alabama with a huge touchdown drive to tie things up at 7, just absolutely grinding Georgia down with several running plays. Lacy capped it off with a great 41-yard run. They ran right at Jarvis Jones too.
Georgia was responding well with a nice drive until a bad Murray interception that Bama takes back over mid-field. How about some insult added to injury? Or is that injury added to insult?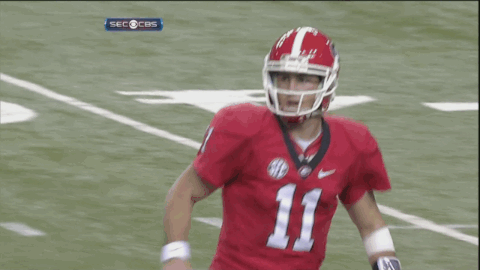 McCarron made a couple nice runs but Alabama basically ran out of time and had to settle for the field goal. 10-7 in a very weird first half. I thought Alabama was solidly outplaying Georgia on a play-by-play basis but a fake punt and an interception in the end zone really tilted things in favor of the Bulldogs. At any rate, 10-7 felt right at the break.
Georgia rides Gurley to open the second half with a touchdown. You need great running back play to beat Alabama. Even great blocking up front, which is hard enough as it is, isn't enough. The running backs need to play out of their minds. Can we have another 2012 USC from Theo?
Earlier in the broadcast Verne and Gary were talking about Bama defensive tackle Jesse Williams, pretty much saying he's not the best player on this defense in terms of pass rushing. Now, he's on the sidelines with a knee injury. You may remember he's the kid from Australia that Alabama signed from the JUCO ranks this year.
Huge turn of events after a pass interference play is overturned because of a tipped ball (it wasn't tipped) and Georgia blocks the ensuing field goal and takes it back for a touchdown. Georgia now leads by 11 points and it really still feels like at best it's a draw with execution and production on plays from scrimmage.
Alabama establishes its dominance with a big touchdown drive on the back of T.J. Yeldon. At this point it's becoming clear that the Tide are having their way running the ball. Bama converts the 2-point conversion and closes the gap to 21-18.
Lacy spends some time on the sideline but is back and straight up owning fools out there. A big run he just bounces off Jarvis Jones, makes a spin move, and races down field. Lacy's power and speed, not to mention his jump cutting ability and burst, is ridiculous.
So Jesse Williams looked to have a semi-serious knee injury and just came back in the game at fullback on Lacy's short goal line touchdown run. Okay then.
It appears Alabama's kicker can kick a touchback whenever he wants to. It will be interesting if they take George Atkinson out of the game in Miami or if they take their chances with some big shots on GA3 because you know he'll just run straight ahead and let that happen. Knowing Saban and his sadistic ways he'll be kicking the ball right to George.
Murray with a beautiful strike down field to get Georgia back in business. The Alabama safety got turned around and he made him pay. A couple plays later Gurley pounded it in to the end zone. For the first time all game I feel like the Dawgs have proven they are capable of winning this game.
Aaaaand Alabama comes right back, after a block in the back and near lost fumble on the kick return, and is pounded the crap out of Georgia with run after run. The drive stalled out near mid-field though. If Alabama was winning that would have been a great drive to run a bunch of time off the clock, but they are losing.
Man, the Alabama offensive line loves to get to the second level and block---and they are damn good at it. Tuitt, Nix, Kap & Co. are going to make them pay if they are blocked one on one because you know the Tide will do all they can to get a body on Te'o and Fox.
Georgia tried a deep sideline out pass on 1st down and it failed. Probably not a great idea when you're leading and running the clock is becoming crucial. The Tide pick up a huge 3rd down stop on a running play, led by none other than the aforementioned Jesse Williams. This guy has a huge gut but plenty of Louis Nix in him.
Alabama turned around and face their own 3rd down from 5 yards and Yeldon picks it up while running. Classic Alabama. They're down late in the game and they run the ball on 3rd and long. A perfectly executed playaction pass on 1st down turns into a beautiful deep pass to, yup you guessed it, Amari Cooper. Bama back on top.
Georgia durped it up on the ensuing drive. You know those saying about not getting it done in big games, Richt? This is the type of things the press is talking about.
Alabama got a little conservative and left Georgia just over a minute left. They'll get another shot!
I'm not sure there was enough evidence to over-turn that interception by Alabama. That could have been a fitting end to Aaron Murray's career, but he'll get yet another shot.
But they didn't spike the ball! A couple nice throws by Murray and the last one is tipped at the line, caught at the five, and time simply runs out.
Quick Thoughts on Alabama:
That was kind of a sloppy game for Alabama, and they still won against a very good team. We're not going to see that sloppy of an Alabama team with 5 weeks to prepare.
Their running backs will be the best Notre Dame has faced all season. For as great as Riddick and Wood have played this season, neither are on Lacy's or Yeldon's level---although Riddick's versatility makes it close.
I don't know what to think about A.J. McCarron. I do know he fits what Alabama wants to do though. And because of that he is pretty good. By himself I feel pretty good about the title game but he's surrounded by some superb talent, and he's usually made plays when it matters most.
I wonder how much Notre Dame is going to have to worry about playmakers outside of Lacy, Yeldon, and Cooper. But when you add a great offensive line with a smart quarterback, Alabama doesn't really need any other playmakers.
This Tide defense is still very good, but it doesn't appear to be as insane as its been in the past under Saban. Their speed rushing likely won't give Notre Dame many problems and there are going to be opportunities to make their secondary pay.
I'm excited to see how Golson handles this Alabama defense and how the Tide handle his playmaking ability as well. We've gone from not sleeping on him to Golson becoming a possible X Factor in the national title game.