This 2012 team has had a way of blowing away my expectations. First I was happy to see them escape Purdue and then sweep the Michigan schools. 2 more losses over the course of the next 8 games would have been tangible progress for this program too.
But they would have none of it.
Instead, the Fighting Irish of Notre Dame marched into the Coliseum and won their second straight visit to Los Angeles (first time since '92 to do that) and secure a perfect 12-0 regular season record.
Now we wait until Monday January 7, 2013 for Notre Dame to play in the National Championship game.
What an unbelievable season. Let's see if I can review this final game against USC because the euphoria for the way this team has played all season really makes it tough to judge what happened on Saturday night.
Defensive Line
We've come to expect greatness from this unit and from that view point I thought they were having some problems early on in this game. They let the USC running backs run for 115 yards on 21 carries which is one of the stronger days for an opponent against this defense.
Still, there was enough pressure overall (although no recorded quarterback hurries) and big-play ability when it was needed.
Kapron Lewis-Moore has been playing his best ball of his career (5 tackles, 2 for loss, 1 forced fumble, and 1.5 sacks) and might easily be awarded the defensive player of the game award.
Next to him, Louis Nix once again was eating up the middle with a tackle for loss, pass break up, and numerous pockets shrunk among his 3 total tackles. If you only watch one replay from this game watch Irish Chocolate on the 3rd and goal play. Dear Lord!
Interestingly another quiet game from Stephon Tuitt who was held without a sack and just 2 tackles. Not sure what's going on there but he's coming close to some big plays and likely getting a ton of attention from opposing offensive linemen.
Linebackers
Of course Manti Te'o picked off his 7th interception and added 5 more tackles. It likely won't be enough for the Heisman but his impact isn't measured much in a box score.
Prince Shembo is playing at a really high level right now. 5 more tackles, half for loss, and a half sack give him one of the stronger regular seasons for an edge rusher in recent memory. I can't wait to see him with another season at the Cat linebacker spot.
Playing for the 'ship! Jeff Gross/Getty Images
Carlo Calabrese didn't play much (was he hurt I can't remember?) so we saw a lot of Dan Fox, who played okay I thought. He was trying to fill gaps at certain points but USC was doing a nice job blocking---especially at the second level.
Danny Spond continues to impress the heck out of me. He's the size of a middle linebacker containing Marqise Lee on an end around. How does that happen?
Secondary
Matthias Farley led the team with 9 tackles although some of them were after the SC backs had reached the second level. Still, a lot needs to be said about stopping the ball carrier at first contact and Farley did that an awful lot in this game. He also flew off the edge and helped Big Lou stop USC on 3rd and goal too.
We got another strong game out of Zeke Motta (5 tackles, 1 for loss) too although he wasn't quick enough to break up USC's lone touchdown. He made up for it by climbing atop the lockers in the ICON video though.
Very proud of the way Jackson and Russell played in this tilt. Bennett gets a ton of credit for tackling Lee after great coverage (seriously, wow what a reception!) and preventing an easy USC touchdown. He also finished with 6 tackles and made some nice stops near the line of scrimmage on short completions.
Russell gave 'em hell out there with a nice interception and solid coverage overall. I thought the second fade to Lee was great coverage but what are you going to do?
Offensive Line
The line was really opening some big holes and played a really great game. USC was able to get upfield on a lot of plays but they were either burned by Riddick's agility or the Irish moving to the second level and paving the way for a big run. Just another 200+ yard effort blocked for by this unit. Ho hum.
The best part to me was that USC was held to just 3 tackles for loss (coming in to the game averaging 8 per game) and just 1 sack.
Top notch effort from the offensive line.
Tight End
Tyler Eifert is a grown man. 4 receptions, 69 yards, at 17.2 per catch is the big play ability he's given this team all year. Did you see that graphic during the game showing how many of his catches go for 1st downs or touchdowns?
We may miss Eifert more than Michael Floyd and that's saying something.
Wide Receivers
It's just one catch but it's great to see John Goodman filling in for an injured Daniels. And a 23-yard reception is nothing to sneeze at on this stage.
Classic. Kirby Lee/US Presswire
Nothing huge from TJ Jones or Robby Toma but there was enough production to do some decent damage. It's a shame but as Golson matures he's been able to see the middle of the field a lot better and this really would have propelled Toma into a major threat this season if it happened earlier.
Running Backs
Not a great game for Cierre Wood who was bottled up all night and fell way below his usual production. For the first time all season he didn't crack 5 yards per carry as he seemed to run a lot of outsize zone plays that never materialize into much. However, catching a couple passes was nice to see for C-Wood.
George Atkinson only got two carries---1 for no gain and another for 15 yards. That about sums up his skill set but I did like his aggressiveness and vision on the long run.
Now on Theo Riddick.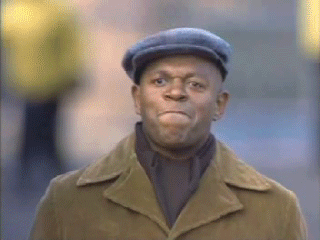 I've been Team Wood all season but last night was something special to see from Riddick. If it were possible for him to play this way every game the controversy would have ended a long time ago and Theo would deserve as many carries (and playing time) as his body could humanly take.
My goodness was he good last night. 20 carries for 146 yards, numerous runs where he morphed into Adrian Peterson, and let's not forget 3 catches for 33 yards too.
I suspect the coaching staff saw this potential---and not just the solid all-around game we've seen most of the year, but All-American level of play---and knew it was best to use Theo as much as possible this season.
Quarterback
Just a couple things on Golson:
1. His arm strength is really starting to shine through. It's improved as the season wore on this year, but when his brain truly catches up to his arm ya'll better watch out. His throw to Goodman in particular shows how accurate and powerful his arm is while running and barely putting in any effort.
2. His regular season numbers aren't anywhere near the other redshirt freshman who exploded this season, but it's pretty clear what a special talent we have on our hands here.
3. There won't be a quarterback controversy next season. Golson is this team's quarterback for the long-term.
Special Teams
Overall it was a strong game.
Turk has a nice game punting and I love Barrati's tackles on Robert Wood's on one of the returns. Lee got loose for a 43-yard return but that was balanced out by a 39-yard return by Atkinson who showed that when the coverage is poor he'll make you pay.
5 made field goals on 6 attempts by Brindza was a great day in the office. He's now nailed the second most field goals in the country. He needs work on his accuracy but we may have a clutch kicker on our hands.
Final Thoughts
I'll keep it short and sweet this week. I know just over 1,500 words is a miracle!
I'm just so proud of this team. So happy to see the coaching staff, administrators, trainers, fans, students, and everyone associated with Notre Dame finally see faith and hard work pay off.
This still feels like a dream---like it all went too fast and it's not really reality right now. For that reason, I believe a nice long 6-week break will be good for everyone leading up to the national title game if only because it will allow us a lot of time to revisit just what a great season 2012 has been in South Bend.
It feels great to be a small part of this 12-0 season, and I'm glad everyone involved here at One Foot Down has been able to share it with us.
Go Irish.