Notre Dame (+10.5) at Oklahoma
Gaylord Family - Oklahoma Memorial Stadium in Norman, Oklahoma
Kickoff: 8:00 PM ET
Television: ABC
Last Meeting: 34-30 Notre Dame (1999)
Here we are, the Irish are undefeated heading to Norman in what may be the toughest challenge of the season. Sooner head coach Bob Stoops called it the biggest home game for Oklahoma in over a decade, tickets are going for sky-high prices, and a national title is on the line not only for Notre Dame but possibly for the home team as well.
This one is kind of a big deal.
Here is the One Foot Down preview of Saturday's game between Notre Dame and Oklahoma.
5 Factoids
4-0-0
You've probably already heard a dozen times that Notre Dame owns a 8-1-0 record all-time against the Sooners, but the Irish are also undefeated and 4-0 while playing in Norman. The overall 8-1-0 mark is also the worst against any opponent Oklahoma has faced at least twice.
5
This will be the fifth time both teams come into this matchup ranked in the AP Top 25 as Notre Dame sits at No. 5 and the Sooners at No. 8 in the country. The Irish are 3-0 as the higher ranked team while Oklahoma is 0-1 in these games.
79-4
That's Bob Stoops' record at home since he's been at Oklahoma. Of course it doesn't include games against Texas, but still. Stoops won his first 17 home games at Oklahoma on his way to a national title in year two and only lost 2 home games overall from 1999 through 2004.
Why hello! Matthew Emmons/US Presswire
However, the Sooners have lost 2 out of their last 6 home games which includes a loss to Kansas State this year and one to Texas Tech last year. Yet, almost 1 in 8 home games have been shutouts in favor of Oklahoma and they have beaten opponents by an average score of 43.0 to 13.9 during Stoops' reign at home.
6.88
This is the yards-per-play average for the Oklahoma offense, the best of any past or future Notre Dame opponent this season and the Sooners are 8th best in the nation with this mark.
4.54
This is the yards-per-play average that the Oklahoma defense is giving up this season, 16th best in the nation and just 4 spots lower than the 4.45 mark posted by Notre Dame defense.
4 Players to Watch
FB Trey Millard
Yes, an honest-to-goodness fullback! And he's actually used enough that many Notre Dame fans will surely faint from rage-filled jealously or tear-filled appreciation. The 6'2" 256 pound junior does his fair share of blocking because duh, but he also gets the ball about 3 or 4 times a game. With an average of 51.7 yards per game from scrimmage, he's widely considered the best fullback in the country. He's also a ninja.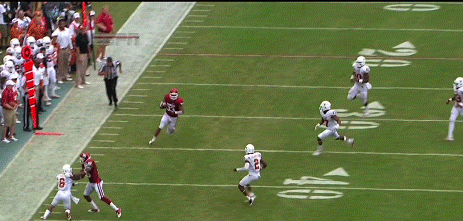 RB Damien Williams
The 6'0" 208 pound junior JUCO recruit came to Norman this fall after an All-American season at Arizona Western in which he piled up 1,931 rushing yards and 30 total touchdowns. Williams figured to see the field this season but he's been so explosive that he's now taken over as the top runner for OU among a talented and experienced backfield.
Through six games Williams leads Oklahoma with 552 yards on just 74 carries, good for 7.46 yards per carry and 7 touchdowns.
WR Kenny Stills
The former San Diego high school superstar stepped on campus in Norman two and a half years ago and has been starting since day one. He was overshadowed by Ryan Broyles in the past, but Stills is coming into his own as a legit All-American wide receiver in 2012.
After producing 122 catches with 1,645 yards and 13 touchdowns during his first two seasons, Still is on pace to have his best season yet with 38 receptions, 476 yards, and 4 touchdowns coming into this weekend.
The former freshman All-American and Big 12 Freshman of the Year enters his junior season as one of the top safeties in the country. Last season Jefferson totaled 74 tackles, 4.5 sacks, 7.5 tackles for loss, and 4 interceptions while only being named to the Big 12 Honorable Mention team, but those are essentially All-conference numbers.
This season Jefferson is leading the Sooners with 48 tackles and has chipped in 2 tackles for loss, as well as an interception.
Football Outsiders' Advanced Stats for 2012
| | | |
| --- | --- | --- |
| STAT | ND | OU |
| FEI Overall | 6 | 2 |
| Game Efficiency | 14 | 4 |
| Offense FEI | 4 | 3 |
| Defense FEI | 10 | 6 |
| S&P Overall | 5 | 3 |
| S&P Offense | 13 | 25 |
| S&P Defense | 11 | 2 |
| F/+ Overall | 6 | 2 |
| F/+ Offense | 3 | 5 |
| F/+ Defense | 10 | 2 |
3 Concerns
The Power of the Spotlight
This has the chance to be the biggest game in nearly 20 years for Notre Dame, will they buckle under the pressure?
The last time Notre Dame started 7-0 they went on the road and upset Florida State in Tallahassee, but that Seminoles team finished with 5 losses and wasn't great.
Oklahoma has already lost to Kansas State this season, but it was a 5-point loss to what is looking like an outstanding Wildcat team. What's more, OU has dominated their opponents in recent weeks since that loss and they are looking very strong.
The spotlight is going to be very bright, let's hope it doesn't burn the Irish in one of the toughest places to play in the country.
The Explosiveness & Fast-Pace of the Sooner Offense
This is the best and most well-rounded offense that Notre Dame has faced this season. They have an experienced and talented quarterback, a solid offensive line, and a handful of very skilled playmakers. To top it off, they run a spread offense that can exploit Notre Dame's weaknesses more efficiently than a pro-style attack that the Irish love competing against.
Oklahoma probably isn't going to go off for 40 points but the potential is there. Their fast-paced offense could get into gear, tire out the Irish defense, prevent ND from utilizing it's depth on the defensive line, and grab a lead quickly if the visitors aren't careful.
The Health & Effectiveness of Everett Golson
Golson has been cleared and is 100% healthy according to coach Kelly but you never know what could happen following a concussion. Plus, EG had been dealing with a turf toe and shoulder issue in prior weeks.
Assuming he's healthy and ready to go, Golson is going to have to play at a high level for the Irish to win. It's imperative that he protects the ball, stays within the gameplan, and makes plays with his feet.
This might be the best secondary he faces all season so moving the ball through the air could be challenging. If the offense stays conservative and Golson gets around 200 yards passing without an interception or fumble a win is very possible---but it won't be easy.
2 Sides of the Line
Oklahoma was poised to have an entire offensive line of starters returning and during the preseason they were mentioned as one of the top units in the nation. However, before the season they dealt with two major injuries.
First, starting center Ben Habern (32 career starts) quit football due to lingering neck issues although he missed the bulk of 2011 anyway, and later starting right guard Tyler Evans (29 career starts) tore his ACL and was ruled out for 2012.
Since then, they've had to do some shuffling by moving senior returning starter Lane Johnson to left tackle, while senior returning starter Gabe Ikard has stayed at center where he moved early last year after Habern's injury. Junior Adam Shead started five games at left guard last year and has also returned. Juniors Bronson Irwin and Daryl Williams have been brand new starters this season at right guard and right tackle, respectively.
Tony Jefferson rocks one spat only. Matthew Emmons/US Presswire
Ikard is a tremendous lineman and could be the best the Irish face this season outside of Michigan's Taylor Lewan. The loss of Evans and Habern likely prevented this line from being great, but guys like Shead and Irwin are getting good reviews and OU's line has been very solid this year.
Oklahoma is known for having a deep and talented defensive line with stars like Gerald McCoy, Frank Alexander, and Jeremy Beal all having wreaked havoc for the Sooners in recent years. However, this doesn't appear to be one of those Stoops teams with a ton of talent up front---in fact no one on their 4-man line made our OFD Preseason All-Opponent 1st or 2nd Team.
5th-year defensive end David King is back, has been a part-time starter throughout his career, and also sees time in the interior. Senior Jamarkus McFarland returns at tackle after making 10 starts from 2010-11, while 5th year senior Casey Walker returns at the other tackle spot after making 12 starts from 2010-11.
Junior Chuka Ndulue is a first-year starter at the other defensive end spot, while 5th-year senior R.J. Washington offers more depth behind him. There are a couple young players getting some playing time as well, while 5th-year senior Stacy McGee (3 starts in 2011, 14 career starts) was just reinstated by Bob Stoops and will be part of the rotation Saturday.
There's a lot of older players with this OU defensive line, but not likely any big-time difference makers. They have decent size up front but the rest of the defense behind them is on the lighter side, while the line is not nearly as productive as most Stoops-led lines. For example over the past 19 games all of the players mentioned above have a combined 16 sacks and 29.5 tackles for loss---decent numbers but nothing too great, especially considering they play with 4 defensive linemen in a pass-happy league that provides plenty of opportunities to make plays up front.
The offensive lines for both teams seem pretty equal, and I'd even give Oklahoma a slight edge, but they will have to deal with Notre Dame's highly disruptive defensive line. I'd expect the Irish to attack that less experienced right side of the OU line and have a good amount of success doing so. OU has good rushing numbers overall, but they were pretty average against the two best defenses they've faced in Texas Tech and Kansas State (213 yards, 3.8 per rush) and they've allowed 10 sacks in 6 games which is solid but not great. The Irish have an advantage here but will need to remain stout in run defense and try like mad to get in Landry Jones' face.
On the other side, Notre Dame is going to have to run the ball at a high level to win this game. They'll have the opportunity to do so against a weaker-than-usual Oklahoma front, but the Sooners still have enough talent throughout their entire defense to support their line and slow down the Irish ground attack.
If they stay committed to running the ball then Notre Dame should have a fairly productive day on offense, but that might not be enough---the Irish need to control the clock and gash the Sooners on the ground.
1 Prediction
Notre Dame fans should feel pretty good with the Irish at 7-0 and being a healthy underdog in a game they have a real chance to win---that should definitely give the team a nice chip on its shoulder this Saturday too. This is a huge game that could truly define a season (and a coaching staff) while thrusting the team into legit national title contention.
For obvious reasons this has turned into a must-win game for the Fighting Irish---but is it really?
Perhaps the question I am asking is not 'IS THIS A MUST WIN?' but rather 'WHAT IS GOING TO HAPPEN IF NOTRE DAME LOSES?'
Let's not kid ourselves here...winning in Norman is not easy. In fact, it's been pretty much impossible for a highly ranked team to win there for over a decade, and the odds don't seem great that it's going to happen twice in one season.
So what would a loss do to this team?
If Notre Dame loses the reaction from the national media is going to be the same tired drivel we always see. Notre Dame won't get the benefit of the doubt for starting 7-0 and the overrated and exposed labels will come out in full force. Heck, the media has tried to devalue Notre Dame's hot start before this game---just imagine what it's going to be like if the Sooners win.
To me, that's not fair to Notre Dame and it will be a shame if it happens. Not many people---and certainly not the ones who will be screaming 'overrated' should the Irish lose---expected Notre Dame to be 7-1 at this point in the season. Personally, I thought this would be the toughest game on the schedule before the season began by a wide margin and I still feel that way today. Losing would hurt of course, but it doesn't crumble the work and progress this program has made since the start of the season.
HARUMPH! Matthew Emmons/US Presswire
This is Oklahoma at Gaylord---a place where dreams go to die, a place where the Sooners win by an average of nearly 30 points per game, a place where they've scored 40+ points 57.8% of the time since 1999. Some may think I'm needlessly building up Oklahoma and that it's wrong speaking about a loss that hasn't happened and might not even happen, but I just want to be brutally honest about this football game.
There's no shame in falling to the Sooners, especially if the Irish play them tough and it's a close game.
That might not be the narrative from many after a possible loss, but it should be, and damn near everyone would have taken a 7-1 record with a competitive game against OU back in fall camp.
That's why I'm not too worried about a loss, but rather the reaction we'll have to deal with if it happens that comes with the territory of being Notre Dame fans. This team will still be in line for a BCS bowl should a loss occur and that exceeds my expectations for this program in 2012.
It's not so much a sense of playing with house money or waiting for the other shoe to drop as much as it is realizing how so much recent history, from both programs, is making this a ridiculously difficult game to win for Notre Dame.
Nevertheless, circumstances have changed from fall camp and the pressure is still there for Notre Dame to win on Saturday, even as a double-digit underdog. Even with the Sooners as a heavy favorite this is a game the Irish have a real shot to win.
Notre Dame has the ability to slow down the Oklahoma run game and if they do this early (and possibly take a lead) the Sooners will start relying on Jones through the air. Even with backup quarterback Blake Bell eating 31 carries near the goal line, Oklahoma is still throwing the ball 52.4% of the time---without Blake, who is essentially a goal line novelty, the Sooner offense is basically 60/40 in favor of the pass.
It'll be paramount that Notre Dame keep the OU run game in check and put constant pressure on Landry Jones. This might force a couple turnovers, get Jones out of his comfort zone and slow down the game to a pace that Notre Dame prefers.
Offensively, the Irish are going to need a big game on the ground---likely 200+ yards---and Golson will have to protect the ball and chip in at least 30 or 40 yards on the ground to extend some drives.
Oklahoma's secondary is very talented and aggressive with outstanding safety Tony Jefferson leading the way but other defensive backs Aaron Colvin, Demontre Hurst (2nd Team All Big-12 in 2011), and Javon Harris give the Sooners the toughest back-end of a defense Notre Dame will play in 2012. They've been very stingy through the air this season and the best ND can hope for is a couple big plays and a bunch of smart and quick throws to keep Oklahoma off-balance.
A win is possible for the Irish but they will have to play such a complete and mistake-free game that I don't think the team is ready to go into Norman and pull it off.
Oklahoma is just so good at so many things right now. They've got a talented and experienced quarterback, a solid offensive line, an All-American-type receiver in Stills, plus two transfers (Justin Brown, Penn State & Jalen Saunders, Fresno State) who provide excellent depth with a trio of highly talented freshmen in Sterling Shepard, Trey Metoyer, and Durron Neal. All three running backs, plus a skilled fullback, are back from last year and that's before they picked up the nation's best JUCO running back.
Oklahoma likes to play a 4-2-5 defense and with their defensive line they will be susceptible to the Irish power running game. Senior Tom Wort is a really good middle linebacker and he's flanked by another very good athlete in Corey Nelson. This will be a great matchup of size versus speed as Oklahoma's essentially playing with 4 safeties and 2 corners from their base defense.
Can the Irish push around this lighter Oklahoma defense, or will the Sooner speed cause problems? Will Golson be able to handle the pressure on blitzes or will he melt under the heat Mike Stoops will assuredly send from all over the place?
This would be an outstanding win for Notre Dame, but Oklahoma is too complete of a football team. Even their kicker Michael Hunnicutt and punter Tress Way are likely to be the best the Irish will face while the Justin Brown transfer has helped their punt return game and given them one of the top special teams units in the nation.
There's just not many weaknesses for the Irish to exploit and it will take major domination on the lines and Everett Golson's best game to date for Notre Dame to win. It pains me to say it, but I don't think that is happening this weekend in Norman.
A win wouldn't exactly be miraculous, but with a redshirt freshman quarterback and some weaknesses in the secondary and special teams, beating Oklahoma on the road doesn't quite feel like part of the plan this year.
Notre Dame 13
Oklahoma 27